Forthcoming events
Overview
The Cambridge Academy of Organ studies offers a range of events aimed at promoting the playing and study of pipe organs built on historic principles. Our next events are:
Information for "Coming soon" box on the left.
If the title is blank then this event won't appear in the coming soon box.
Moulins/Toulouse Organ Academy

Course postponed to 2021

Course in association with Les Amis des Orgues de Moulins. Tutor Alexis Droy, Titulaire Organist of Moulins Cathedral.

Moulins and Toulouse, France

Postponed to 2021

Moulins/Toulouse Organ Academy

We are sorry that the travel restrictions caused by the pandemic have made it too difficult for students to attend this year's course. Alexis Droy has suggested keeping the same programme for next year when we hope travel will have returned to normal. Dates to be announced, but we expect it will be a similar period towards the end of August.

If you would like to be kept informed of dates please join our email list.
A continuation of the annual summer course (formerly at Moulins Cathedral and the Priory of Souvigny), this course offers intensive tuition, practice opportunities and a public recital for participants in Moulins Cathedral for a limited number of advanced players over 18. The course this year offers a visit to Toulouse and a teaching session on the renowned Cavaille-Coll organ in the Basilica of St Sernin.

August 16-19 – classes on the 1880 Merklin organ of Moulins Cathedral, participants' concert in Moulins.

August 20 – travel to Toulouse, class from 18-22h at the renowned Cavaillé-Coll organ of St Sernin in Toulouse.

August 21 – 10:00-13:00 class on the organ of Notre Dame de la Dalbade à Toulouse (Puget 1888, 47 stops).

Repertoire for the course - Symphonie n°6 by Ch. M. Widor. le Jardin Suspendu, Variations sur un thème de Clément Jannequin, 2 danses à Agni Yavishta, Litanies by Jehan Alain.

Cost of the course: €350 includes tuition and travel from Moulins to Toulouse, reduction to €300 for students in full-time education. There is the possibility of lodging full-time students with members of the association Amis des Orgue in Moulins.

Places available for five active participants, observers welcome @ €30 per day.
For full details please contact Anne Page
email: anne@cambridgeorganacademy.org
Tel. 01223 240026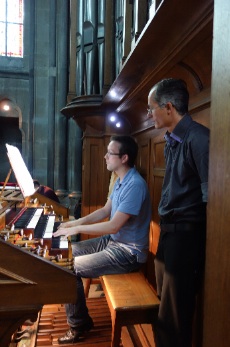 Alexis Droy and Richard Pinel at the organ of Moulins Cathedral.

Information for "Coming soon" box on the left.
If the title is blank then this event won't appear in the coming soon box.
Christopher Stembridge offers online teaching on Frescobaldi
Based on his new edition for Bärenreiter Urtext.

Christopher Stembridge online offer
Christopher Stembridge is a leading authority on Italian keyboard music of the renaissance and early baroque, known for his recordings and concert performances which are informed by his research into the music and instruments of the period. He is currently working with Bärenreiter Urtext editing the new anthology of Frescobaldi's organ and keyboard works. See www.baerenreiter.com for details, BA 8411 through BA 8415.
Christopher has made a unique offer during the pandemic which CAOS is posting on its website with his agreement:
"Since summer courses are not on this year, I would like to make myself available via skype to any serious player who wants to play and/or discuss anything in Frescobaldi, as long as they are really conversant with my edition so that we are on the same wavelength without my having to explain basics. There would be no charge."
Anyone interested in taking this up please get in touch with CAOS Secretary James Little on james@cambridgeorganacademy.org